Molded Shower Pans
42 x 36 Molded Shower Pan
Molded shower pans are generally designed for new construction, however, they can be used in remodeling situations if you build-out to meet the dimension specifications. These pans have fixed drain locations generally located in the center of the pan. If you cannot use a molded pan for whatever reason, we can fabricate a custom size to fit your dimensions. Molded shower pans do not require a PVC or lead underpan. If you are unsure of which pan you can use, call us and we will be glad to assist you.
Molded Shower Pans come in standard sizes:
( Click on Hyperlink for printable Details )
* The first number in the pan size denotes the threshold side.*
36" x 36" Rectangle
Most molded pans have an integral water dam.
60 x 32 Molded Tub Replacement Pan
Designed to convert a standard tub into a shower, this shower base fits comfortably into the location of your existing tub. With the drain at 10" from either the right hand wall or left, relocation of your existing drain will be minimal. Also, this is an excellent choice for remodeling because of its spacious size.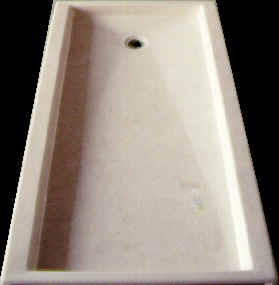 Right Hand Drain
or
Left Hand Drain