Tub Surrounds
Tub surrounds are an excellent and affordable alternative to tile. With no grout to clean, you can enjoy a surround that is easy to maintain and keep looking new for years to come.
Your Standard Tub with our marble tub walls.
(Notice how smooth and clean this looks! No grout lines to mess with!)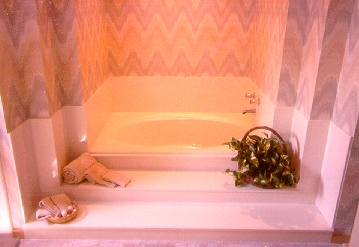 Custom Tub Trim with our 73"x42" marble tub
(Our Expert installers can handle any custom work.)
Tub Surround with Small Soap and Shampoo Dish
(Grab bar optional - West U. Marble does not install grab bars.)
61" x 31" Marble Tub with skirt and Tub Surround Combination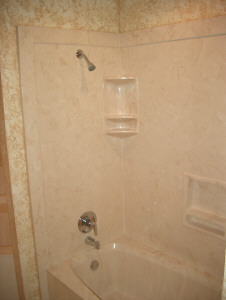 We normally install 4" x 3/4" trim around walls for a
neat and finished appearance.
60" x 60" Corner tub with a 13" high Tub Trim
and Window Sill
Our 60" x 42" Tub with Surround and Step
The window is trimmed out in marble as well.